About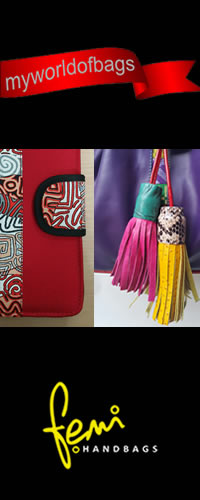 It all started with a diaper bag. In 1992, having just learnt how to use a sewing machine, Femi Olayebi decided to make a baby bag for her first baby, who is now a beautiful 23-year old. Before she knew it she was making diaper bags for friends and family. In 1994 she became what she calls the 'accidental entrepreneur' and formed a company which she called My World of Bags, continuing to produce bags of every kind - and loving it! From outrageously coloured handbags made from anything she could lay her hands upon, there was no stopping her!

The company stable includes two distinct lines, the first, a leather handbag line, FEMIHANDBAGS and the second, a functional and corporate line which takes its name from the company, MYWORLDOFBAGS , and boasts a stunning range of multi-function, ethnic-styled products such as conference bags and folders, document holders, tech accessories and so much more.
And so, whether it's a leather tote, a sleek phone pouch, or a conference folder, all the company's products fall within the niche of African-themed and contemporary, and can always be distinguished by its individual signature style.

Every product is meticulously handcrafted in Femi's design workshop in Nigeria.  A French graduate and translator by profession, Femi consistently pours her creative energy into every product, paying great attention to the minutest details, and looking to her culture for inspiration, cleverly incorporating traditional elements (the traditionally hand-woven and vibrantly coloured aso-oke is one of her favourites) into sophisticated silhouettes. For her, the excellence is in the details!

Welcome to My World of Bags!